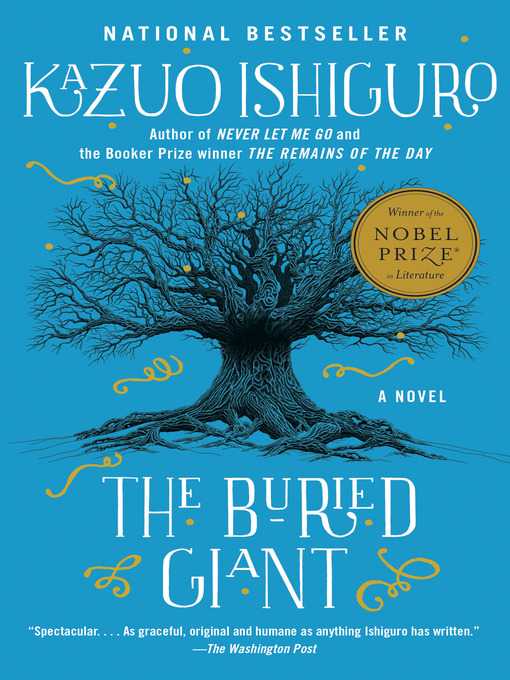 OM FIC ISHIGURO
The buried giant A novel
2015.
1 online resource.
From the winner of the Nobel Prize in Literature and author of the Booker Prize€€"winning novel The Remains of the Day comes a luminous meditation on the act of forgetting and the power of memory. In post-Arthurian Britain, the wars that once raged between the Saxons and the Britons have finally ceased. Axl and Beatrice, an elderly British couple, set off to visit their son, whom they haven't seen in years. And, because a strange mist has caused mass amnesia throughout the land, they can scarcely remember anything about him. As they are joined on their journey by a Saxon warrior, his orphan charge, and an illustrious knight, Axl and Beatrice slowly begin to remember the dark and troubled past they all share. By turns savage, suspenseful, and intensely moving, The Buried Giant is a luminous meditation on the act of forgetting and the power of memory.
Online
Overdrive Media

Access Digital Media
Editorial Reviews
Review by Publishers Weekly.
Ishiguro's new novel is set in Arthurian England-not the mythic land of knights, castles, and pageants most of us are familiar with, but a primitive and rural country likely far closer to historical reality. This is a gray and superstitious place, rather than a battlefield alive with the color and movement of steeds and fluttering banners; it's sparsely inhabited and scarcely advanced. Candles are preciously hoarded, and simple folk cluster together for safety amid vast stretches of untamed and fear-inspiring wilderness. The grim-textured, circa-sixth-century landscape is also a country haunted by magic, where ogres loom in the dark and steal children, and dragons are hunted by faded warriors like Sir Gawain. But its magic remains in the background, an earthy fact of life rather than a dazzle of sparkling make believe. Here British peasants eke out a hardscrabble existence from caves dug into hillsides, while the recent Saxon invaders live in more-advanced villages of rudimentary huts. A strange fog hovers over the dreary countryside-where an uneasy peace has balanced on a knife edge since the end of the most recent wars-robbing the populace of its memories. Into this countryside our protagonists-an elderly, ailing British couple named Axl and Beatrice-embark on a pilgrimage to the village of their half-forgotten son. It's a sad, elegiac story, one that has a tone and texture suited to its subject matter: a dreamy journey, repetitive and searching as lost memory. Conversations are formal and stilted, but their carefully crafted formality lends an austere rigor to the proceedings-Axl and Beatrice are following a gentle old-people's quest, not a dashing young knight's. Although they do cover literal ground and encounter figures of myth and legend along the way, their real search is clearly interior, a painstaking effort to know themselves and each other by piecing together the vestiges of their past. Memory is inseparable from personhood, in Beatrice's view, and personhood must be known for love to be authentic. Though she and Axl seem devoted to each other ("Princess," he calls her insistently, though she's manifestly anything but), she believes that their devotion, in the absence of memory, may prove insufficient to keep them together when they die. Her guiding fear is that the couple will be separated in the afterlife-on the "island," as the world of the dead is represented here-if they can't show the Charon-like boatman tasked with rowing them over that they know each other, and love each other, well enough to be granted the rare privilege of crossing that last water together rather than alone. The gift of remembering, as it turns out, will come at a steep price, not for the two aging and kindhearted Britons but for their country. The Buried Giant is a slow, patient novel, decidedly unshowy but deliberate and precise-easy to read but difficult to forget. © Copyright PWxyz, LLC. All rights reserved.
(c) Copyright PWxyz, LLC. All rights reserved
Review by Library Journal.
Imagine an existence without memory. Lacking context, would war become obsolete? Or family strife? This is the concept introduced in Ishiguro's latest, which appears ten years after his acclaimed Never Let Me Go. Set in first-century England, this parable revolves around Axl and Beatrice, an elderly couple tired of living in the dark. Fleeting memories haunt them but disappear with the morning mist. Did they once have a son? When did he leave? Why? They set out on a journey looking for answers but, as befitting a quest novel, obstacles abound. Axl and Beatrice are plagued by ogres and pixies, joined by a Saxon warrior and an errant knight from Arthur's court, and have their lifelong devotion to each other tested in disturbing ways. Though the book is wildly different in setting and style from the author's previous fiction, fans will recognize familiar themes, including the elusiveness of memory and the slow fading of love. Alas, Ishiguro's reliance on a tedious, repetitive back-and-forth conversation between the couple detracts from the story. VERDICT Ishiguro's career spans over 30 years, highlighted by Booker winner The Remains of the Day and Whitbread winner An Artist of the Floating World, yet this quasifantasy falls short as the medium to deliver the author's lofty message. [See Prepub Alert, 9/8/14.]-Sally Bissell, Lee Cty. Lib. Syst., Fort Myers, FL (c) Copyright 2015. Library Journals LLC, a wholly owned subsidiary of Media Source, Inc. No redistribution permitted.
(c) Copyright Library Journals LLC, a wholly owned subsidiary of Media Source, Inc. No redistribution permitted.
Review by Booklist.
In Ishiguro's first novel since 2006 (Never Let Me Go), the award-winning author reinvents himself once again. It is a fable-like story about an elderly couple, Axl and Beatrice, who reside in a village that is made up of underground warrens and is sometimes menaced by ogres. One day they get it into their heads to track down their son, who vanished years ago, although they cannot remember exactly why. In fact, their whole village seems to be struggling with memory loss, with residents forgetting from one day to the next key incidents and people from their pasts. Despite their advanced years and their many aches and pains, Axl and Beatrice set out on a perilous journey, encountering along the way a smooth-talking boatman, a wailing widow, and, most momentously, an ancient, garrulous knight and an intrepid warrior. Ishiguro's story is a deceptively simple one, for enfolded within its elemental structure are many profound truths, including its beautiful and memorable portrait of a long-term marriage and its subtle commentary on the eternity of war, all conveyed in the author's mesmerizing prose. HIGH-DEMAND BACKSTORY: Two of Ishiguro's novels, The Remains of the Day and Never Let Me Go, have more than a million copies in print and were adapted into acclaimed films; pent-up demand will fuel requests for his latest work.--Wilkinson, Joanne Copyright 2015 Booklist
From Booklist, Copyright (c) American Library Association. Used with permission.