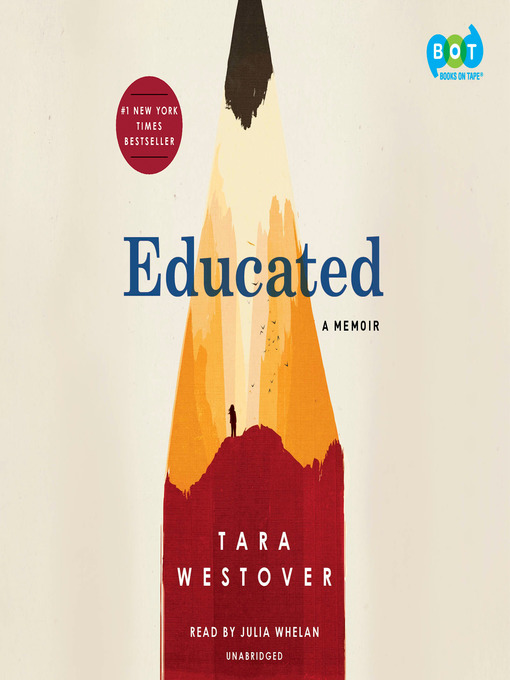 OM 270 WES
Educated A Memoir
New York : Random House Audio, 2018.
1 online resource (10 audio files) : digital.
An unforgettable memoir about a young girl who, kept out of school, leaves her survivalist family and goes on to earn a PhD from Cambridge University.
Online
Overdrive Media

Access Digital Media
Editorial Reviews
Review by Publishers Weekly.
Actor Whelan chooses a simple, straight reading of Westover's memoir about growing up in a dysfunctional, abusive fundamentalist family. It's a wise choice, partly because there are so many dramatic scenes throughout the book that it would exhaust the listener to have them dramatized, and partly because Westover portrays herself as a passive and compliant family member until the day she enters a classroom for the first time at the age of 17. Whelan creates an angry, gravelly voice for Westover's paranoid, fundamentalist Mormon father, a controlling and abusive man terrified of the influence of teachers and doctors. While preparing for the imminent end of the world, he homeschools his children and keeps them ignorant of all events outside their isolated Idaho home. Some family members are maimed by hideous accidents, and physical fights are common in the household. Still struggling with the ingrained need to be loyal to her family, Westover eventually attends college and earns a Ph.D. from Cambridge University. Whelan smoothly guides listeners through Westover's physical and emotional traumas as she powerfully conveys Westover's transform from "a wicked thing" to a scholar. A Random House hardcover. (Feb.) © Copyright PWxyz, LLC. All rights reserved.
(c) Copyright PWxyz, LLC. All rights reserved
Review by Library Journal.
As the youngest of seven children born to fundamentalist parents in remote Idaho, seven-year-old Westover realized it was unusual that her siblings didn't go to school. Her father's distrust of government, education, and doctors meant Westover didn't have a birth certificate, medical records, or school records. Neglect and abuse were common, especially at the fists of one of her older brothers. Encouraged by another brother who got out, Westover begins the process of getting "educated" when she entered her first-ever classroom at 17 as a freshman at Brigham Young University. -Basic history-the Holocaust, the civil rights movement-was yet unknown to her, but she progressed to Cambridge, Harvard, and back to Cambridge for a PhD in history. Narrator Julia Whelan embodies Westover's steely almost detached resolve, maintaining modulated control even amid desperate, dangerous situations-broken bones, third-degree burns, gruesome accidents. She reserves her growls and bellows for the Westover men determined-yet who fail-to keep their women down. VERDICT A Mormon metamorphosis memoir is such a rarity that readers will undoubtedly be drawn to getting Educated. ["Explicit descriptions of abuse can make for difficult reading, but...Westover's writing is lyrical and literary in style": LJ 2/1/18 review of the Random hc.]-Terry Hong, Smithsonian BookDragon, Washington, DC © Copyright 2018. Library Journals LLC, a wholly owned subsidiary of Media Source, Inc. No redistribution permitted.
(c) Copyright Library Journals LLC, a wholly owned subsidiary of Media Source, Inc. No redistribution permitted.
Review by School Library Journal.
Raised in an alternative Mormon home in rural Idaho, Westover worked as an assistant midwife to her mother and labored in her father's junkyard. Formal schooling wasn't a priority, because her parents believed that public education was government indoctrination and that Westover's future role would be to support her husband. But her older brother's violence and their family's refusal to acknowledge problems at home resulted in the teen contemplating escape through education. Admittance to Brigham Young University was difficult. Westover taught herself enough to receive a decent score on the ACT, but because of her upbringing, she didn't understand rudimentary concepts of sanitation and etiquette, and her learning curve was steep. However, she eventually thrived, earning scholarships to Harvard and Cambridge-though she grappled with whether to include her toxic family in her new life. Born in 1986, Westover interviewed family members to help her write the first half. Her well-crafted account of her early years will intrigue teens, but the memoir's second part, covering her undergraduate and graduate experiences in the "real world," will stun them. VERDICT A gripping, intimate, sometimes shocking, yet ultimately inspiring work. Perfect for fans of memoirs about overcoming traumatic childhoods or escaping from fundamentalist religious communities, such as Jeannette Walls's The Glass Castle and Ruth Wariner's The Sound of Gravel.-Sarah Hill, Lake Land College, Mattoon, IL © Copyright 2018. Library Journals LLC, a wholly owned subsidiary of Media Source, Inc. No redistribution permitted.
(c) Copyright Library Journals LLC, a wholly owned subsidiary of Media Source, Inc. No redistribution permitted.
Review by Booklist.
To the Westovers, public education was the quickest way to put yourself on the wrong path. By the time the author, the youngest Westover, had come along, her devout Mormon parents had pulled all of their seven children out of school, preferring to teach just the essentials: a little bit of reading, a lot of scripture, and the importance of family and a hard day's work. Westover's debut memoir details how her isolated upbringing in the mountains of Idaho led to an unexpected outcome: Cambridge, Harvard, and a PhD. Though Westover's entrance into academia is remarkable, at its heart, her memoir is a family history: not just a tale of overcoming but an uncertain elegy to the life that she ultimately rejected. Westover manages both tenderness and a savage honesty that spares no one, not even herself: nowhere is this more powerful than in her relationship with her brother Shawn, her abuser and closest friend. In its keen exploration of family, history, and the narratives we create for ourselves, Educated becomes more than just a success story.--Winterroth, Amanda Copyright 2018 Booklist
From Booklist, Copyright (c) American Library Association. Used with permission.