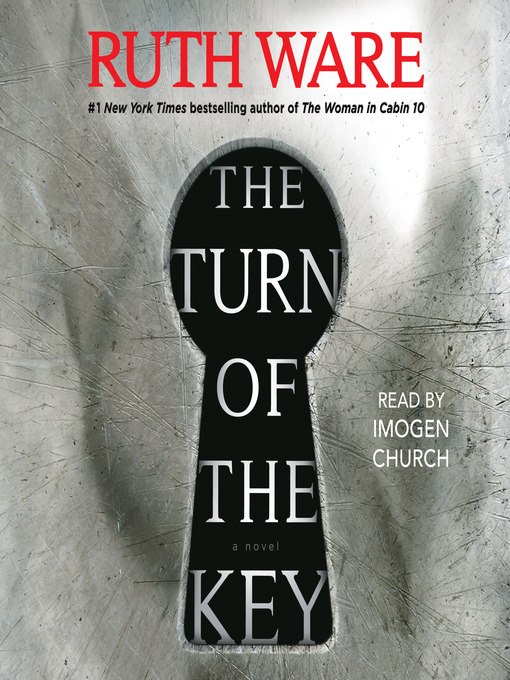 OM FIC WARE
The turn of the key
New York : Simon & Schuster Audio, 2019.
1 online resource (11 audio files) : digital.
When she stumbles across the ad, she's looking for something else completely. But it seems like too good an opportunity to miss a live-in nannying post, with a staggeringly generous salary. And when Rowan Caine arrives at Heatherbrae House, she is smitten by the luxurious "smart" home fitted out with all modern conveniences, by the beautiful Scottish Highlands, and by this picture-perfect family. What she doesn't know is that she's stepping into a nightmare. one that will end with a child dead and herself in prison awaiting trial for murder. Writing to her lawyer from prison, she struggles to explain the unravelling events that led to her incarceration. It wasn't just the constant surveillance from the cameras installed around the house, or the malfunctioning technology that woke the household with booming music, or turned the lights off at the worst possible time. It wasn't just the girls, who turned out to be a far cry from the immaculately behaved model children she met at her interview. It wasn't even the way she was left alone for weeks at a time, with no adults around apart from the enigmatic handyman, Jack Grant. It was everything. She knows she's made mistakes. She admits that she lied to obtain the post, and that her behavior toward the children wasn't always ideal. She's not innocent, by any means. But, she maintains, she's not guilty at least not of murder. Which means someone else is.
Online
Overdrive Media

Access Digital Media
Editorial Reviews
Review by Publishers Weekly.
Agatha Award finalist Edwin Hill is the author of Little Comfort.
(c) Copyright PWxyz, LLC. All rights reserved
Review by Library Journal.
Ware (The Death of Mrs. Westaway) parlays themes from Henry James's classic ghost story, The Turn of the Screw, into gripping suspense for the digital age. Ware's narrative also originates from after-the-fact correspondence and documents uncanny revelations from precocious children, an isolated mansion betokening abandonment amid luxury, and inklings of former dark goings-on. However, Ware imagines a more aspirational, imperfect nanny and cleverly exploits the mansion, Heatherbrae House, as an uneasy presence whose history, inexplicable noises, and intrusive security cameras engender fear and distrust. Visual disharmony inflicted by the home's recent, aggressive renovation even parallels identity issues of newly hired nanny Rowan, who has barely unpacked when her posh employers depart for a conference, leaving four daughters in her care and vital secrets (e.g., that previous nanny and the poisoning incident) unshared. Narrator Imogen Church, splendidly conveying Rowan's youth, heightening dread, and utter credibility, also delights as the disturbingly blithe voice of "Happy," software programmed to run Heatherbrae but which instead terrorizes the household with harrowing miscues like blasts of music in the wee hours--a "smart house" apparently gone rogue. VERDICT The only 21st-century question scarier than "Who can you trust?" is "Who else has the passcode?" Wholeheartedly recommended.--Linda Sappenfield, Round Rock P.L., TX
(c) Copyright Library Journals LLC, a wholly owned subsidiary of Media Source, Inc. No redistribution permitted.
Review by Booklist.
Henry James' 1898 novella The Turn of the Screw was successfully reworked as early as 1911 in Burnett's The Secret Garden and has morphed many times over since then into film, music, and many remarkable novels, including this one. Ware cleverly puts a high-tech spin on the tale's gothic foundations of spellbinding menace set in a remote cavernous mansion with mysterious locked doors and a spooky garden. In Ware's version, though, the garden is not just spooky but also poison. Rowan Caine stumbles across an online listing for a live-in nanny position with a seemingly charming family at Heatherbrae House in the magnificent Scottish Highlands. The staggering salary on offer should have warned Rowan that something might be amiss, but she couldn't resist. The house is rumored to be haunted and nightmarishly controlled by software ironically called the Happy App, whose malfunctions have nerve-shattering results. For Rowan, The sense of intrusion was indescribable, thanks to surveillance cameras and unseen speakers, not to mention the spectral sounds coming from the attic above her room. Her decline into resentment, fatigue, and terror is chronicled in the form of letters she writes while in prison awaiting trial for the murder of one of the children. Ware's James-like embroidery of the strange and sinister produces a Turn of the Screw with cellphones and Teslas that will enthrall today's readers. Much like its predecessor, the novel is occasionally mystifying, but it will not disappoint.--Jane Murphy Copyright 2019 Booklist
From Booklist, Copyright (c) American Library Association. Used with permission.