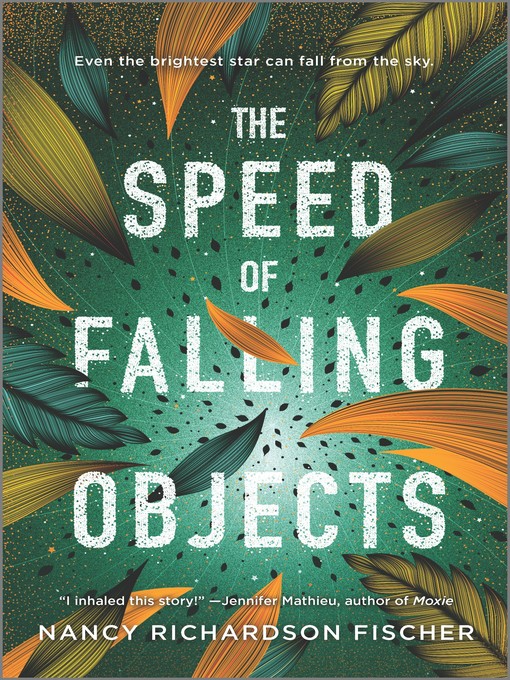 OM FIC FISCHER
The speed of falling objects
2019.
1 online resource.
From the author of When Elephants Fly comes an exceptional new novel about falling down, risking everything and embracing what makes us unique. Don't miss this compulsively readable novel about the most unlikely of heroes. Danger "Danny" Danielle Warren is no stranger to falling. After losing an eye in a childhood accident, she had to relearn her perception of movement and space. Now Danny keeps her head down, studies hard, and works to fulfill everyone else's needs. She's certain that her mom's bitterness and her TV star father's absence are her fault. If only she were more -more athletic, charismatic, attractive-life would be perfect. When her dad calls with an offer to join him to film the next episode of his popular survivalist show, Danny jumps at the chance to prove she's not the disappointment he left behind. Being on set with the hottest teen movie idol of the moment, Gus Price, should be the cherry on top. But when their small plane crashes in the Amazon, and a terrible secret is revealed, Danny must face the truth about the parent she worships and falling for Gus, and find her own inner strength and worth to light the way home.
Online
Overdrive Media

Access Digital Media
Editorial Reviews
Review by Publishers Weekly.
At nearly 17, detail-oriented Danger Danielle Warren ("Danny") is eager for an opportunity to connect with her celebrity survivalist father, Cougar. So, she ignores her reservations about dangerous conditions and wildlife and joins him on a trip to Peru to record an episode of his popular television show. The episode's featured guest is teen heartthrob Gus Price, who travels along with Danny, Cougar, three crew members, and a seasoned pilot, but the trip quickly goes wrong when a storm causes the group to veer off course and crash-land in the jungle. The intensity of Danny's quest to prove herself to her father, her resentment toward her mother, and insecurity about her own self-worth and abilities, in part due to internalized insecurities about the night that she lost the use of one eye, is heightened by the beauty and danger of the Amazon. Readers will be captivated by the ways in which each character's true self is laid bare as their numbers dwindle, their carefully constructed masks falling aside to reveal their inner natures. Ages 13--up. (Oct.)
(c) Copyright PWxyz, LLC. All rights reserved
Review by School Library Journal.
Gr 8 Up--After a childhood accident that leaves Danger "Danny" Warren with one eye and ultimately an estranged father, she jumps at the chance when her famous survivalist dad, Cougar, invites her to appear on his show for her birthday. Even better, she'll be filming with heartthrob-of-the-moment Gus Price in the Amazon forest. Disaster strikes when a violent storm throws the crew's plane into uncharted wilds. Now, Danny has to rely on her instincts, inhibited by a past that made her fearful and indecisive, and a group of perfect strangers to survive the jungle. This is an adventure-survival novel driven by the clear and relevant theme of what happens when children realize their parents are only human. Mature Danny easily finds a home in the hearts of readers as she spends a significant amount of time with her father for the first time. Paired with a unique plot, Danny's story is a memorable one. Fischer throws an impressive amount of detail and knowledge of the natural and medical worlds into the rich setting while tracing character arcs that are both realistic and riveting. Through Danny, Fischer thoughtfully leads readers through growth and understanding in challenging physical and mental circumstances that are fascinating in their own right. A seemingly extraneous love story muddies an otherwise engrossing personal journey, but does conveniently help to move Danny's evolution. VERDICT For fans of Jessi Kirby's The Other Side of Lost and Danika Stone's Switchback, this is a shining star among young adult survivalist stories.--Abby Hargreaves, District of Columbia Public Library
(c) Copyright Library Journals LLC, a wholly owned subsidiary of Media Source, Inc. No redistribution permitted.
Review by Booklist.
Danny is the daughter of TV reality-show star Cougar Warren, who takes celebrities on outdoor adventures. He's a savvy survivor of extreme conditions and a largely absent father. For Danny's seventeenth birthday, he invites her along on a trip to the Amazon with Gus Price, the hottest teen actor around. But when their plane crashes into the rain forest, the crew begin to die off, leaving it up to Danny and Gus to make their way to safety and bring back help for the survivors. Fischer's tightly constructed novel is packed with gruesome and fascinating details about Amazonian flora and fauna, but at its heart is Danny's desire to create a relationship with the father she idolizes, despite her mother's cautions. While readers may be frustrated by Danny's cluelessness regarding his faults and skeptical of the romance building between her and Gus, Fischer has created a sympathetic, believably flawed, and satisfyingly strong heroine whose emotional journey is as compelling as the physical hardships of the rain forest.--Debbie Carton Copyright 2010 Booklist
From Booklist, Copyright (c) American Library Association. Used with permission.