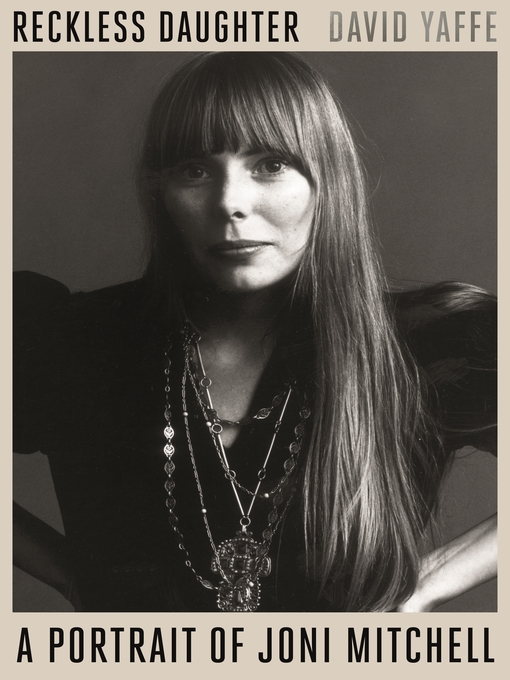 OM 782.42 YAF
Reckless daughter a portrait of Joni Mitchell
2017.
1 online resource.
Music critic David Yaffe tells the remarkable, heart-wrenching story of how the blond girl with the guitar became a superstar of folk music in the 1960s, a key figure in the Laurel Canyon music scene of the 1970s, and the songwriter who spoke resonantly to, and for, audiences across the country. A Canadian prairie girl, a free-spirited artist, Mitchell never wanted to be a pop star. She was nothing more than "a painter derailed by circumstances," she would explain. And yet, she went on to become a talented self-taught musician and a brilliant bandleader, releasing album after album, each distinctly experimental, challenging, and revealing. Her lyrics captivated listeners with their perceptive language and naked emotion, born out of Mitchell's life, loves, complaints, and prophecies. As an artist whose work deftly balances narrative and musical complexity, she has been admired by such legendary lyricists as Bob Dylan and Leonard Cohen and beloved by such groundbreaking jazz musicians as Jaco Pastorius, Wayne Shorter, and Herbie Hancock. Her hits from "Big Yellow Taxi" to "Both Sides, Now" to "A Case of You"endure as timeless favorites, and her influence on the generations of singer-songwriters who would follow her, is undeniable. In this intimate biography, drawing on dozens of unprecedented in-person interviews with Mitchell, her childhood friends, and a cast of famous characters, Yaffe reveals the backstory behind the famous songs from Mitchell's youth in Canada, her bout with polio at age nine, and her early marriage and the child she gave up for adoption, through the love affairs that inspired masterpieces, and up to the present and shows us why Mitchell has so enthralled her listeners, her lovers, and her friends. Reckless Daughter is the story of an artist and an era that have left an indelible mark on American music.
Online
Overdrive Media

Access Digital Media
Editorial Reviews
Review by Publishers Weekly.
Drawing on in-depth interviews with Mitchell, her friends, and her musical associates, Yaffe (Fascinating Rhythm) paints a colorful and riveting portrait of a songwriter who has continually broken boundaries and explored new musical territories. In lively, bright prose, Yaffe traces Roberta Joan Anderson from her birth in Alberta, Canada, in 1943, through her early bout of polio, her marriage to Chuck Mitchell in 1964 (when she changed her name to Joni Mitchell), and the birth of her daughter in 1965. Yaffe describes Mitchell's steely resolve to make her own art, her emergence as a voice of her generation, her creative struggles in the 1980s and 1990s, and her recent recovery from a brain aneurysm. He brilliantly guides readers through Mitchell's evolution as a musician with vivid descriptions of the making of each of her albums from Song to a Seagull ("If drums and an electric guitar had been added to the mix, Joni would have produced some acid rock herself") through Shine in 2007. Yaffe introduces readers to the musicians with whom Mitchell worked, including Leonard Cohen, Graham Nash, Judy Collins, and Charles Mingus. The combination of fine writing and extensive access make this the definitive biography of a gifted songwriter and musician. (Oct.) © Copyright PWxyz, LLC. All rights reserved.
Review by Library Journal.
Among the greatest songwriters in history, Joni Mitchell has enriched the -nation's sound track since the late 1960s. The Canadian-born singer suffered polio at age ten and went on to embellish the baby boomer-Woodstock-era songbook with standards such as "Both Sides Now," "Help Me," and "Big Yellow Taxi." Regular access to the singer positioned Yaffe (humanities, Syracuse Univ.) to mine the stories behind her songs, love affairs, heartbreaks, and losses. As Mitchell, narrator Xe Sands builds on this intimacy, channeling the subject believably. Interviews with around 60 of Mitchell's associates-many musical legends themselves-reaped expressions of awe about her crystalline voice, virtuoso strumming, and evocative lyrics. Yaffe has his own musical chops, making him well equipped to add insightful musical exegesis about his subject's work. Because musical nuance can't be fully communicated in narrative, libraries might want to augment their CD collection with albums such as Blue or the DVD of PBS's American Masters episode Joni Mitchell: Woman of Heart and Mind. VERDICT -Listeners wishing to reminisce about popular music's role in cultural history, along with younger aficionados seeking introductions, will find Mitchell's life story memorable. ["Fans won't see her star -diminished as much as her brilliance and frailties revealed. All music collections need this one": LJ 10/15/17 review of the Sarah Crichton: Farrar hc.]--Judith Robinson, Univ. at Buffalo © Copyright 2018. Library Journals LLC, a wholly owned subsidiary of Media Source, Inc. No redistribution permitted.
(c) Copyright Library Journals LLC, a wholly owned subsidiary of Media Source, Inc. No redistribution permitted.
Review by Booklist.
*Starred Review* In this dazzling biography, Yaffe so aptly calls Joni Mitchell (born Roberta Joan Anderson) our eternal singer-songwriter of sorrows. Ironically, Mitchell considered herself a painter first, according to Yaffe. He perfectly captures not only the singer's urban-inflected and American-influenced lyrics but also music that is deeply rooted in Canadian prairie soil (she was born in Alberta and raised in Saskatchewan). Like fellow Canadian Neil Young, Mitchell was struck by polio at a young age. The disease scarred her emotionally, but it also made her resilient and rebellious. She moved to Toronto as an unwed mother and gave up the baby for adoption. Her marriage to the American folksinger Chuck Mitchell, while pursuing her career on the folk music/coffeehouse circuit, was a disaster, but she was writing songs while in her twenties, including the timeless Both Sides, Now. Yaffe offers critical observations pertaining to all her albums (including Blue, Ladies of the Canyon, The Hissing of Summer Lawns, Court and Spark, Hejira, Don Juan's Reckless Daughter, and Mingus); recalls her halcyon and artistically fruitful days in the Los Angeles neighborhood of Laurel Canyon; and discusses her relationships with the late Leonard Cohen, David Crosby, Graham Nash, James Taylor, and Jackson Browne, among others. A shimmering portrait of one artist's life, illusions and all.--Sawyers, June Copyright 2017 Booklist
From Booklist, Copyright (c) American Library Association. Used with permission.