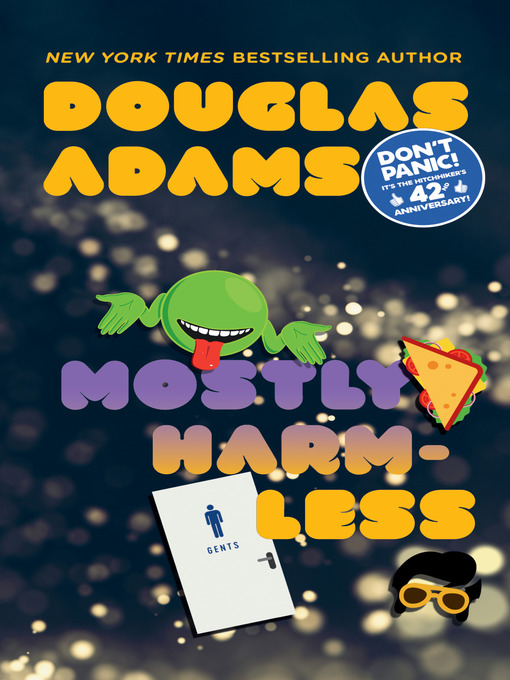 OM FIC ADAMS
Mostly harmless The Hitchhiker's Guide to the Galaxy Series, Book 5
2009.
1 online resource.
It's easy to get disheartened when your planet has been blown up and the woman you love has vanished due to a misunderstanding about space/time. However, instead of being disheartened, Arthur Dent makes the terrible mistake of starting to enjoy life a bit and immediately all hell breaks loose. Hell takes a number of forms: there's the standard Ford Prefect version, in the shape of an all-new edition of The Hitchhiker's Guide to the Galaxy, and a totally unexpected manifestation in the form of a teenage girl who startles Arthur Dent by being his daughter when he didn't even know he had one. Can Arthur save the Earth from total multidimensional obliteration? Can he save the Guide from a hostile alien takeover? Can he save his daughter, Random, from herself? Of course not. He never works out exactly what is going on. Will you?.
Lexile: 910L
Online
Overdrive Media

Access Digital Media
Editorial Reviews
Review by Publishers Weekly.
Ford Prefect, of the planet Betelgeuse, and Earthman Arthur Dent began their whimsical odyssey in The Hitchhiker's Guide to the Galaxy. In Adams' latest book, Ford relies on serendipity and his own quick wits to protect a powerful new edition of the Hitchhiker's Guide from the loathsome, sluglike Vogons. Ford's pal, Arthur, misses his planet and his old flame, Tricia McMillan. The rootless traveler from Earth finds his metier, however, on Lamuella, a world whose people subsist on Perfectly Normal Beast. Adams sets a rapid pace that becomes even more hectic when Arthur is unexpectedly joined by Tricia; her peevish teenage daughter; Ford Prefect; and the travel guide to the stars. The book once looked like a hand-held computer; now it takes the shape of a mechanical talking bird. Using new techniques, this floating device can whisk users through space and time. Thus the scene shifts back to Earth, where the past, present and future braid together. Adams may depend too much on the cliffhanger form. But his ingenious wit still captivates, and his characters frolic through the galaxy with infectious joy. (Oct.) (c) Copyright PWxyz, LLC. All rights reserved
(c) Copyright PWxyz, LLC. All rights reserved
Review by Booklist.
Subtitled: "The Fifth Book in the Increasingly Inaccurately Named Hitchhiker's Trilogy," the latest installment in the intergalactic adventures of Arthur Dent and Ford Prefect is up to Adams' usual high standards of ironic inventiveness. The action whips back and forth between parallel universes, one in which the Earth still exists, and one in which the Vogons have dispassionately obliterated it. On Earth, Tricia, a TV anchorwoman (an astrophysicist until she met an attractive, two-headed alien at a party), is working on a story about the implications of the discovery of a tenth planet, called Rupert, for astrology. Meanwhile, Ford has returned to the "Hitchhiker's Guide to the Galaxy" headquarters to learn that the once hip little publishing company has been taken over by the monolithic and secretive InfiniDim Enterprises. While he reconnoiters forbidden corporate territory accompanied by a giddy, rewired security robot, Arthur is mooning around the universe, selling his sperm and DNA, trying to find a planet he can call find home. He is shocked to find out that he has a daughter, named Random, who he is expected to take care of while her reporter mother goes off to cover a war. Eventually, the space-time continuum warps in such a way as to bring everyone together for a cataclysmic finale. Good, metaphysical fun from one of its primary practitioners. (Reviewed Sept. 15, 1992)0517577402Donna Seaman
From Booklist, Copyright (c) American Library Association. Used with permission.