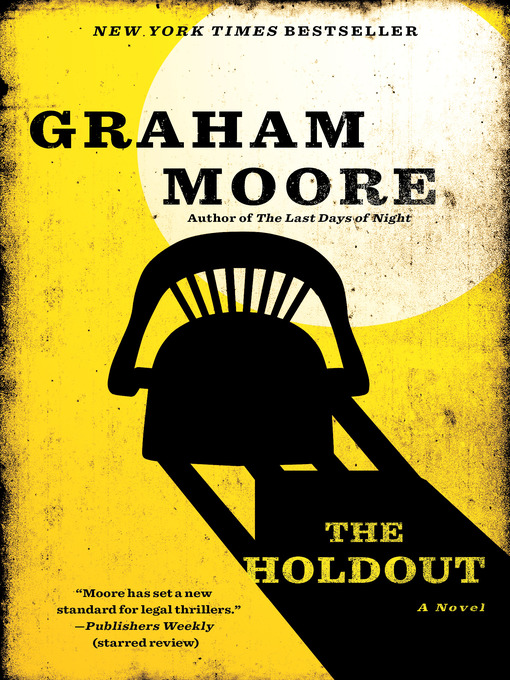 OM FIC MOORE
The holdout
2020.
1 online resource.
It's the most sensational case of the decade. Fifteen-year-old Jessica Silver, heiress to a billion-dollar real estate fortune, vanishes on her way home from school, and her teacher, Bobby Nock, a twenty-five-year-old African American man, is the prime suspect. The subsequent trial taps straight into America's most pressing preoccupations: race, class, sex, law enforcement, and the lurid sins of the rich and famous. It's an open-and-shut case for the prosecution, and a quick conviction seems all but guaranteed until Maya Seale, a young woman on the jury, convinced of Nock's innocence, persuades the rest of the jurors to return the verdict of not guilty, a controversial decision that will change all their lives forever. Flash forward ten years. A true-crime docuseries reassembles the jury, with particular focus on Maya, now a defense attorney herself. When one of the jurors is found dead in Maya's hotel room, all evidence points to her as the killer. Now, she must prove her own innocence by getting to the bottom of a case that is far from closed. As the present-day murder investigation weaves together with the story of what really happened during their deliberation, told by each of the jurors in turn, the secrets they have all been keeping threaten to come out with drastic consequences for all involved.
Online
Overdrive Media

Access Digital Media
Editorial Reviews
Review by Publishers Weekly.
This stellar novel from bestseller Moore (The Last Days of Night) takes a searing look at the U.S. justice system, media scrutiny, and racism. A decade earlier, during a high-profile L.A. murder trial, idealist Maya Seale persuaded her fellow jurors to acquit African-American high school teacher Bobby Nock of killing Jessica Silver, his wealthy white 15-year-old student. The controversial trial had a powerful impact on all the jurors, most of whom regretted the verdict. Maya was vilified in the press, but the most stinging rebuke came from juror Rick Leonard, who published a book blaming the verdict on Maya's bullying. Now the producers of Murder Town, a true crime documentary series, want to do a 10-year anniversary special with Maya, who's since become a defense attorney, as the key participant. During a reunion of the jurors, one of them is murdered in Maya's hotel room. The narrative builds tension as it shifts among the voices of the various jurors, including Maya. Moore has set a new standard for legal thrillers. Agent: Jennifer Joel, ICM. (Feb.)
(c) Copyright PWxyz, LLC. All rights reserved
Review by Library Journal.
Ten years ago, L.A. defense attorney Maya Seale served on the jury of the high-profile murder trial of a teacher accused of killing one of his students, the daughter of a local real estate mogul. Maya believed the teacher was innocent and swayed fellow jurors to her side; they eventually reached an acquittal. On the anniversary of the trial, the jurors are reunited for a true crime documentary. One of the group who had since recanted and searched for new evidence of the teacher's guilt is found dead in Maya's hotel room. Now she must go on the run and use all of her lawyer skills to find out who killed the juror and uncover the secrets in the long-stagnant case. VERDICT The twists are sharp and the flashbacks that uncover what each juror knows are placed for maximum impact in this rollicking legal thriller. In this departure from his carefully plotted historical fiction, Moore (The Last Days of Night) expertly combines deft character work with mounting bombshell revelations in a story that will attract new readers and also seems primed for the big screen. [See Prepub Alert, 7/8/19.]--Gregg Winsor, Johnson Cty. Lib., Overland Park, KS
(c) Copyright Library Journals LLC, a wholly owned subsidiary of Media Source, Inc. No redistribution permitted.
Review by Booklist.
It was the trial of the decade. A 25-year-old African American high-school teacher was accused of the murder of one of his students, 15-year-old Jessica Silver, and it looked bad for him. Teacher and student appeared to have had a steamy affair. Her blood was in his car. Lurid texts on his cell phone. But juror Maya Seale had ""reasonable doubt"" and convinced fellow jurors to acquit. That's the setup for this stem-winder of a murder mystery wrapped in a legal thriller. Ten years later, a true-crime docudrama on the case gathers the jurors for a fresh look. We learn these seemingly solid citizens have their own secrets. During the trial, Maya had an affair with another juror, who blames her now for freeing a killer. Their meeting after all this time sets off the wrong kind of sparks. There's a new murder, and Maya must do some inspired detective work to avoid arrest. The story is gripping, and the pace is furious, but the author also manages to take the scenic route with some nice writing: ""a candy-colored California dawn"" breaking over a field of blooming roses.--Don Crinklaw Copyright 2019 Booklist
From Booklist, Copyright (c) American Library Association. Used with permission.