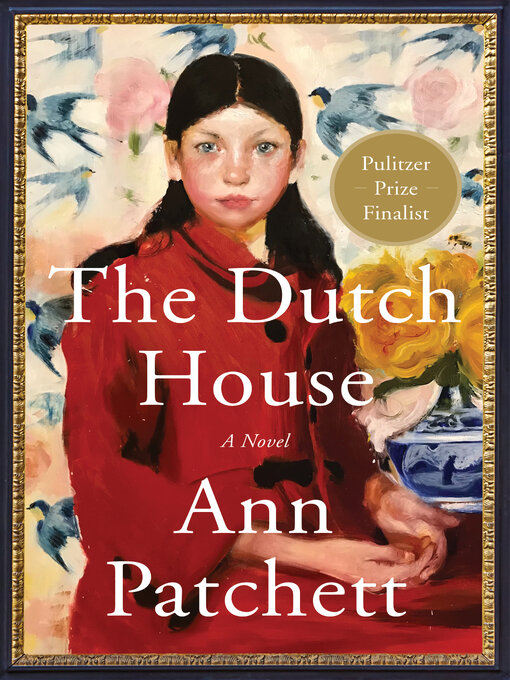 OM FIC PATCHETT
The Dutch house
2019.
1 online resource.
The Dutch House is the story of a paradise lost, a tour de force that digs deeply into questions of inheritance, love and forgiveness, of how we want to see ourselves and of who we really are. At the end of the Second World War, Cyril Conroy combines luck and a single canny investment to begin an enormous real estate empire, propelling his family from poverty to enormous wealth. His first order of business is to buy the Dutch House, a lavish estate in the suburbs outside of Philadelphia. Meant as a surprise for his wife, the house sets in motion the undoing of everyone he loves. The story is told by Cyril's son Danny, as he and his older sister, the brilliantly acerbic and self-assured Maeve, are exiled from the house where they grew up by their stepmother. The two wealthy siblings are thrown back into the poverty their parents had escaped from and find that all they have to count on is one another. It is this unshakeable bond between them that both saves their lives and thwarts their futures. Set over the course of five decades, The Dutch House is a dark fairy tale about two smart people who cannot overcome their past. Despite every outward sign of success, Danny and Maeve are only truly comfortable when they're together. Throughout their lives they return to the well-worn story of what they've lost with humor and rage. But when at last they're forced to confront the people who left them behind, the relationship between an indulged brother and his ever-protective sister is finally tested.
Online
Overdrive Media

Access Digital Media
Editorial Reviews
Review by Publishers Weekly.
A 1920s mansion worms into the lives of the broken family that occupies it in another masterly novel from Patchett (Commonwealth). In 1945, Brooklyn-born real-estate entrepreneur Cyril Conroy purchases the Dutch House in Elkins Park, outside Philadelphia, and presents it, complete with Delft mantels, life-size portraits of the original owners, a ballroom, and staff, to his wife. She hates it. She runs away to serve the poor, abandoning her 10-year-old daughter, Maeve, and three-year-old son, Danny. Five years later, Maeve and Danny meet Conroy's second wife. The second Mrs. Conroy adores the house. When Cyril dies, she keeps it, dispossessing Maeve and Danny of any inheritance except funds for Danny's education, which they use to send Danny to Choate, Columbia, and medical school. Grown-up Danny narrates, remembering his sister as an unswerving friend and protector. For Patchett, family connection comes not from formal ties or ceremonies but from shared moments: Danny accompanying his father to work, Danny's daughter painting her grandmother's fingernails, Maeve and Danny together trying to decode the past. Despite the presence of a grasping stepmother, this is no fairy tale, and Patchett remarkably traces acts of cruelty and kindness through three generations of a family over 50 years. Patchett's splendid novel is a thoughtful, compassionate exploration of obsession and forgiveness, what people acquire, keep, lose or give away, and what they leave behind. (Sept.)
(c) Copyright PWxyz, LLC. All rights reserved
Review by Library Journal.
This latest from Patchett (Commonwealth) is a decadeslong family saga centered on a piece of real estate. Narrator Danny recalls his troubled childhood in the stately Philadelphia-area mansion purchased by his father, who was striving for a level of elegance and comfort that Danny's ascetic mother, an aspiring nun before marriage, could never accept. Largely raised by his saintly sister, Maeve, and a small household staff after his mother runs off to India in the footsteps of Mother Teresa, Danny forms an unbreakable bond with Maeve and a shared obsession with the Dutch House, from which he and Maeve are banned by Andrea, their egotistical stepmother, after their father's early death. The siblings structure their lives around the tragic loss of their home, sublimating their feelings of parental neglect into an all-encompassing loathing of Andrea. VERDICT Not all of Patchett's characters, particularly Maeve, are fully developed or believable, perhaps because of the narrator's own limited powers of observation; Danny more than once acknowledges his own lazy inattention to the people who care for him. Still, this is an affecting family drama that explores the powerful tug of nostalgia and the exclusionary force of shared resentments.--Lauren Gilbert, Sachem P.L., Holbrook, NY
(c) Copyright Library Journals LLC, a wholly owned subsidiary of Media Source, Inc. No redistribution permitted.
Review by Booklist.
The Conroys kept the portraits of the stalwart VanHoebeeks, the wealthy builders of the so-called Dutch House, on display even as their own family fractured. A self-made real-estate magnate, Cyril bought the fully furnished mansion in a prosperous Philadelphia suburb to surprise his wife, catastrophically oblivious to her temperament and values. Cyril's son Danny has scant impressions of his long-gone mother, but his older sister, Maeve, cherishes her memories. After their father fails, once again, to gauge the situation and remarries, the mysteriously motherless yet privileged siblings are abruptly banished from their stately home and left penniless. This inspires brainy, mordant, unconventional, and fiercely self-sufficient Maeve to redouble her devotion to her brother. Patchett (Commonwealth, 2016) is at her subtle yet shining finest in this gloriously incisive, often droll, quietly suspenseful drama of family, ambition, and home. As Maeve and Danny dwell in ""their own paradise of memory,"" their bond takes precedence over all else in their lives, including Danny's marriage, while Maeve's love life remains cloaked to Danny but heartbreakingly clear to readers. With echoes of F. Scott Fitzgerald and in sync with Alice McDermott, Patchett gracefully choreographs surprising revelations and reunions as her characters struggle with questions of heredity, altruism, forgiveness, social expectations, and the need to be one's true self.--Donna Seaman Copyright 2010 Booklist
From Booklist, Copyright (c) American Library Association. Used with permission.