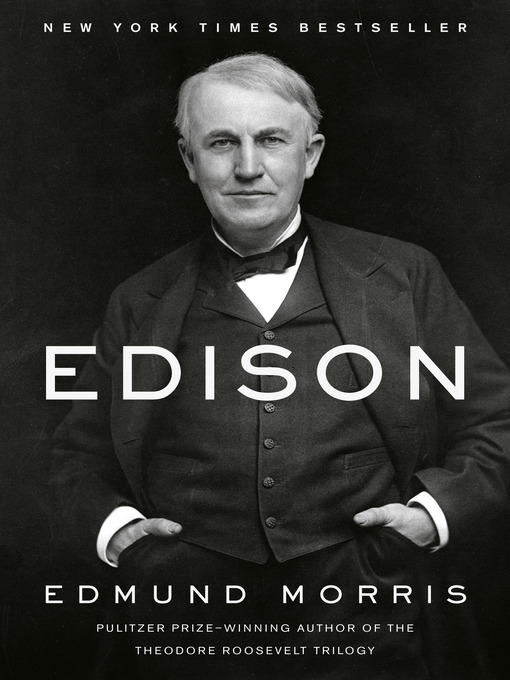 OM 621.3 MOR
Edison
2019.
1 online resource.
From Pulitzer Prize-winning author Edmund Morris comes a revelatory new biography of Thomas Alva Edison, the most prolific genius in American history. Although Thomas Alva Edison (1847-1931) was the most famous American of his time, and remains an international name today, he is mostly remembered only for the gift of universal electric light. His invention of the first practical incandescent lamp 140 years ago so dazzled the world already reeling from his invention of the phonograph and dozens of other revolutionary devices that it cast a shadow over his later achievements. In all, this near-deaf genius ("I haven't heard a bird sing since I was twelve years old") patented 1,093 inventions, not including others, such as the X-ray fluoroscope, that he left unlicensed for the benefit of medicine. One of the achievements of this staggering new biography, the first major life of Edison in more than twenty years, is that it portrays the unknown Edison the philosopher, the futurist, the chemist, the botanist, the wartime defense adviser, the founder of nearly 250 companies as fully as it deconstructs the Edison of mythological memory.
Online
Overdrive Media

Access Digital Media
Editorial Reviews
Review by Publishers Weekly.
Inspiration and perspiration prodigiously unite in this sweeping biography of one of America's greatest inventors. Pulitzer-winning biographer Morris (Dutch: A Memoir of Ronald Reagan) tells Thomas Alva Edison's story backward, opening with the creator of the first long-lasting light bulb, the phonograph, and other electromechanical marvels in lionized, imperious old age and presenting each decade of his life in reverse order, back to his boyhood spells of intense, isolated concentration. The ordering is something of a gimmick--the book reads nicely back to front--but along the way Morris vividly fleshes out Edison's extraordinary intellect and industry as he devoured stacks of scientific treatises, incessantly brainstormed ideas with complex, elegant diagrams, and spent a lifetime of 18-hour days perfecting his designs in the laboratory, where he ate and slept on the floor. (His paternal absenteeism, Morris notes, got a tragicomic comeuppance from two resentful wastrel sons who exploited his name to perpetrate frauds.) Writing in amusing, literate prose that's briskly paced despite a mountain of fascinating detail, Morris sets Edison's achievements against a colorful portrait of his splendid eccentricity--mostly deaf, he was given to biting phonographs and pianos to divine their acoustics--whose visionary obsessions drove his businesses near to bankruptcy. The result is an engrossing study of a larger-than-life figure who embodied a heroic age of technology. Photos. (Oct.)
(c) Copyright PWxyz, LLC. All rights reserved
Review by Library Journal.
In his last piece of scholarship, the late award-winning author Morris (The Rise of Theodore Roosevelt) hones in on one of the world's greatest inventors: Thomas Edison (1847--1931). Anyone expecting a straightforward biography, from cradle to grave, is implored to look elsewhere, perhaps to Matthew Josephson's often-cited Edison: A Biography. This work by Morris follows Edison's life backward by decade in chapters titled after his subject's passions, such as "Magnetism," "Light," and "Sound." Morris presents Edison's life in such detail, it's as if readers are with him in his laboratory or trying out a new invention. The author reviewed millions of pages of archives and had access to Edison's family papers, to produce more than 100 pages of endnote citations. What results is the magnum opus for a biographer who always looked at his subjects from unique angles. From his showmanship to his scientific imagination, Edison is captured in a supremely intimate way. VERDICT This biography is the new standard for scholarship on the Wizard of Menlo Park and is a work that will long sustain Morris's legacy. [See Prepub Alert, 4/15/19.]--Keith Klang, Port Washington P.L., NY
(c) Copyright Library Journals LLC, a wholly owned subsidiary of Media Source, Inc. No redistribution permitted.
Review by Booklist.
Morris (Colonel Roosevelt, 2010) takes a risk with his new biography of Thomas Edison he runs the inventor's life backwards like a film in reverse, finding fresh truths in the story of a genius of almost metaphysical proportions. Edison seems to have almost singlehandedly ushered in the modern age, with his breakthroughs in the recording of sound (the phonograph), lighting (the incandescent lightbulb), moviemaking, and electric generation and communications. Morris shows that besides an immense intellect and ability to survive on little sleep, two aspects of the inventor's makeup were key. To Edison, failure was good: he typically regarded every failure as a step towards success, Morris writes. And his almost total deafness wrapped Edison in his own cocoon: I live in a great, moving world of my own, Edison wrote. He was a man capable of great kindness, but oblivious to the feelings of family and friends; a wealthy man heedless of the demands of his creditors and investors. This absorbing biography, Morris' last (he died in May 2019), has flaws, notably an excess of scientific and engineering detail. Its life-story-told-backwards technique demands attention, but at the end the reader sees Edison fully revealed, a small child about to transform the world.--Mary Ann Gwinn Copyright 2010 Booklist
From Booklist, Copyright (c) American Library Association. Used with permission.