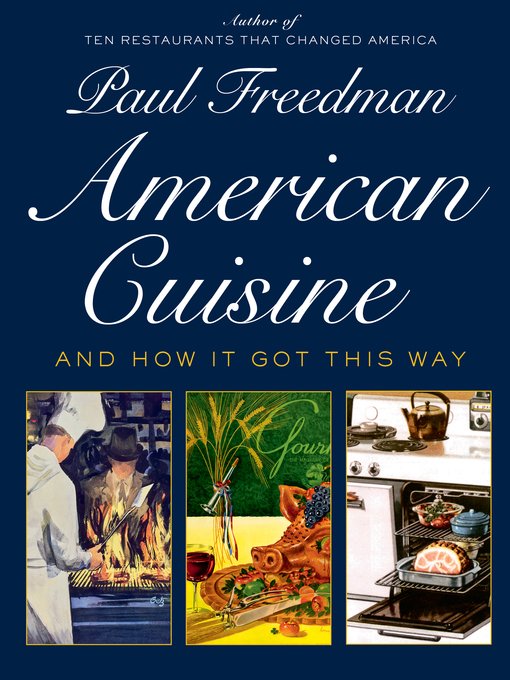 OM 641 FRE
American cuisine and how it got this way
2019.
1 online resource.
With an ambitious sweep over two hundred years, Paul Freedman's lavishly illustrated history shows that there actually is an American cuisine. For centuries, skeptical foreigners and even millions of Americans have believed there was no such thing as American cuisine. In recent decades, hamburgers, hot dogs, and pizza have been thought to define the nation's palate. Not so, says food historian Paul Freedman, who demonstrates that there is an exuberant and diverse, if not always coherent, American cuisine that reflects the history of the nation itself. Combining historical rigor and culinary passion, Freedman underscores three recurrent themes regionality, standardization, and variety that shape a completely novel history of the United States. From the colonial period until after the Civil War, there was a patchwork of regional cooking styles that produced local standouts, such as gumbo from southern Louisiana, or clam chowder from New England. Later, this kind of regional identity was manipulated for historical effect, as in Southern cookbooks that mythologized gracious "plantation hospitality," rendering invisible the African Americans who originated much of the region's food. As the industrial revolution produced rapid changes in every sphere of life, the American palate dramatically shifted from local to processed. A new urban class clamored for convenient, modern meals and the freshness of regional cuisine disappeared, replaced by packaged and standardized products such as canned peas, baloney, sliced white bread, and jarred baby food. By the early twentieth century, the era of homogenized American food was in full swing. Bolstered by nutrition "experts," marketing consultants, and advertising executives, food companies convinced consumers that industrial food tasted fine and, more importantly, was convenient and nutritious. No group was more susceptible to the blandishments of advertisers than women, who were made feel that their husbands might stray if not satisfied with the meals provided at home. On the other hand, men wanted women to be svelte, sporty companions, not kitchen drudges. The solution companies offered was time-saving recipes using modern processed helpers. Men supposedly liked hearty food, while women were portrayed as fond of fussy, "dainty," colorful, but tasteless dishes tuna salad sandwiches, multicolored Jell-O, or artificial crab toppings. The 1970s saw the zenith of processed-food hegemony, but also the beginning of a food revolution in California. What became known as New American cuisine rejected the blandness of standardized food in favor of the actual taste and pleasure that seasonal, locally grown products provided. The result was a farm-to-table trend that continues to dominate.
Online
Overdrive Media

Access Digital Media
Editorial Reviews
Review by Publishers Weekly.
In this well-researched history, Freedman (Ten Restaurants That Changed America) tracks American eating habits from the colonial era to the present in search of a definitive "American cuisine." Freedman scours decades of dining guides and community cookbooks (sharing recipes throughout) for evidence of regional traditions. He discovers that once Americans could buy "factory-made products at any market anywhere in the country, distinctions among regions and places were obliterated" and mainly lived on in cultural imagination. (Who really eats baked beans in Boston?) Freedman picks apart patterns of appropriation, starting with colonizers' adoption of indigenous crops, from the now out-of-favor "Indian pudding" (cornmeal, eggs, raisins, butter) to the still ubiquitous pumpkin pie. He exposes the efforts of white Southerners to distance their cooking from African-American soul food in the early 20th century and examines "ethnic" cooking in a country shaped by its immigrants (while German food "was incorporated into the American repertoire, Chinese cuisine remained identifiably foreign"). He finds that, though the farm-to-table movement has revived interest in local, seasonal cooking, many Americans still turn to packaged foods that sacrifice flavor for reliability. History buffs will dig into this astute culinary narrative. (Oct.)
(c) Copyright PWxyz, LLC. All rights reserved
Review by Library Journal.
Freedman (history, Yale Univ; Ten Restaurants That Changed America) begins this astute, well-researched exploration of American cuisine by asserting that while the United States lacks a definitive "repertoire of recognized dishes" in comparison with other nations, it does indeed exist, and should not be defined by hamburgers and hot dogs alone. Following the evolution of American cuisine from Colonial America, to the rise and decline of American regional cuisines, to the epic "golden age of food processing," Freedman provides interesting insights on the cultural impact of these shifts and the societal and historical events that preceded them. Images of menus, vintage advertisements, articles, and recipes from community cookbooks enhance the project, which includes Freeman's reflections on the current state of American cuisine and its future. He writes that while the farm-to-table movement may have gone mainstream and Americans are increasingly seeking out alternative brands with a perceived message, convenience and reliability will continue to be the key determinant for many consumers at the grocery store and at meal time. VERDICT Purchase for medium and large collections where books about food history are in demand.--Emily Patti, Fox Lake District Lib., IL
(c) Copyright Library Journals LLC, a wholly owned subsidiary of Media Source, Inc. No redistribution permitted.
Review by Booklist.
In this significant, thoroughly researched survey of food and cooking in the U.S., historian Freedman (Ten Restaurants That Changed America, 2016) has a lot to say about who Americans have become as eaters. Reflecting on food from both nutritional and aesthetic perspectives, he proceeds from precolonial times through the twentieth century's technology and communication revolutions to today's world of both uniformity (fast food) and abundant diversity (supermarkets and ethnic restaurants). Freedman pores through regional community cookbooks across the years, analyzing just what ordinary Americans considered good eating. He describes the sociological impacts of technological changes that boosted food production and manipulated Americans with incessant, pervasive advertising. Waves of immigrants brought culinary traditions from Europe, Asia, and South America that rapidly crossed cultural boundaries to enter mainstream consciousness. If there's one takeaway from this vast, overflowing cornucopia, it's that American cuisine is not a canon but a work in progress, every day absorbing novel foods and new attitudes about what makes a good meal. Sidebars offer lists sure to provoke controversy among foodies. Both serious researchers and armchair readers will find education and amusement here. Includes many illustrations and a few recipes to support Freedman's arguments as well as a comprehensive bibliography.--Mark Knoblauch Copyright 2010 Booklist
From Booklist, Copyright (c) American Library Association. Used with permission.