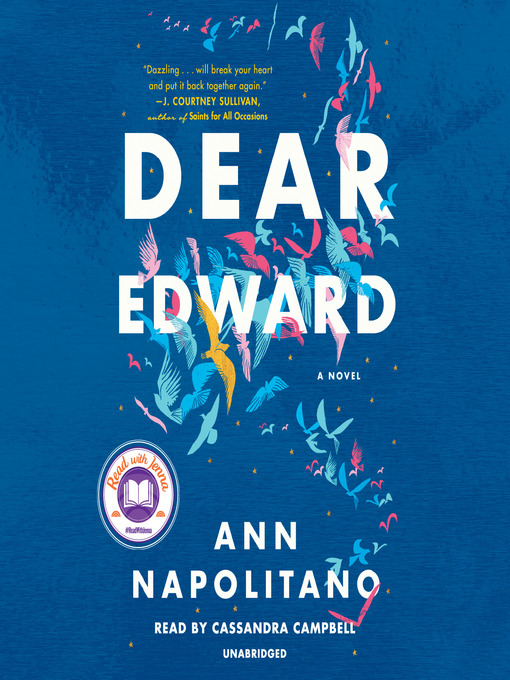 OM FIC NAPOLITANO
Dear Edward
New York : Random House Audio, 2020.
1 online resource (11 audio files) : digital.
What does it mean not just to survive, but to truly live? One summer morning, twelve-year-old Edward Adler, his beloved older brother, his parents, and 183 other passengers board a flight in Newark headed for Los Angeles. Among them are a Wall Street wunderkind, a young woman coming to terms with an unexpected pregnancy, an injured veteran returning from Afghanistan, a business tycoon, and a free-spirited woman running away from her controlling husband. Halfway across the country, the plane crashes. Edward is the sole survivor. Edward's story captures the attention of the nation, but he struggles to find a place in a world without his family. He continues to feel that a part of himself has been left in the sky, forever tied to the plane and all of his fellow passengers. But then he makes an unexpected discovery one that will lead him to the answers of some of life's most profound questions: When you've lost everything, how do you find the strength to put one foot in front of the other? How do you learn to feel safe again? How do you find meaning in your life? Dear Edward is at once a transcendent coming-of-age story, a multidimensional portrait of an unforgettable cast of characters, and a breathtaking illustration of all the ways a broken heart learns to love again.
Online
Overdrive Media

Access Digital Media
Editorial Reviews
Review by Publishers Weekly.
Napolitano (A Good Hard Look) builds a gentle but persistent tension as she navigates the minds of passengers on a plane that is about to crash, and the thoughts of the boy who is the only survivor. Wonderfully detailed characters include Edward Adler, 12 years old at the time of the crash, who lives through the catastrophe, and Shay, who's the same age and lives next to the aunt and uncle who take over for Edward's dead parents. The story moves back and forth before and after the crash, when Edward struggles to physically and emotionally recover. Stories of his fellow passengers are woven throughout: Florida is a Filipina who remembers her past lives; Benjamin is a soldier who has just discovered he's gay; and Veronica is an alluring flight attendant who tallies admiring stares. During Edward's recovery between 2013 and 2019, he remembers some of these people, but in 2016, after finding hundreds of letters addressed to him from the families of the victims, Edward begins to discover his purpose. The potent prose brings readers close to the complex emotional and psychological fallout after tragedy. Edward's intolerable losses and his eventual brave recovery is at first melancholy, but by the end, readers will feel a comforting sense of solace. Napolitano's depiction of the nuances of post-trauma experiences is fearless, compassionate, and insightful. Agent: Julie Barer, the Book Group. (Jan.)
(c) Copyright PWxyz, LLC. All rights reserved
Review by Library Journal.
Imagine the pain of losing a single family member. Now, imagine getting on a plane with your entire family, both parents and an older brother, and when the plane crashes, you are the only passenger to survive. Such is the fate of 12-year-old Eddie Adler in this penetrating new novel from Napolitano (A Good Hard Look). Eddie awakens in the hospital with no immediate family, a huge social media presence as a celebrity survivor, an unshakable sense of hollowness, unsteady memories that can flare up painfully like a forest fire, and the need to understand who he is now, because in a tragedy like this, you don't just lose your future, you lose your past. He even effectively gets a new name; he becomes Edward when he goes to live with his aunt and uncle in New Jersey. Edward does go forward, in illuminating if unexpected ways. But what makes this narrative so effective is its alternating between the ordinary events unfolding on the flight and the aftermath of the crash, which keeps the sense of loss and the significance of what has happened fresh in readers' minds. VERDICT The painfully vivid story of one boy's coming of age redirected by tragedy.--Barbara Hoffert, Library Journal
(c) Copyright Library Journals LLC, a wholly owned subsidiary of Media Source, Inc. No redistribution permitted.
Review by Booklist.
Twelve-year-old Eddie Adler is flying with his family from New York City to Los Angeles, a temporary relocation for his mother's television writing job. As he and his brother fight over who gets the window seat, their parents worry how the boys will cope with the move. The 216 passengers aboard their plane include a soldier returning from Afghanistan, an unexpectedly pregnant woman hoping for an engagement ring from her new boyfriend, and a dying tycoon. When the plane crashes in Colorado, Eddie is the sole survivor. Napolitano's (A Good Hard Look, 2011) latest follows Eddie in his struggle to build a new life without his family. Now living with his aunt and uncle, Eddie (now calling himself Edward) develops a relationship with Shay, his next door neighbor. Their relationship becomes the deep and stabilizing force in Edward's new life, and together they discover a cache of letters hidden in his uncle's garage that ultimately gives Edward's life new meaning. With its expert pacing and picture-perfect final page, Dear Edward is a wondrous read. It is a skillful and satisfying examination of not only what it means to survive, but of what it means to truly live.--Carol Gladstein Copyright 2019 Booklist
From Booklist, Copyright (c) American Library Association. Used with permission.