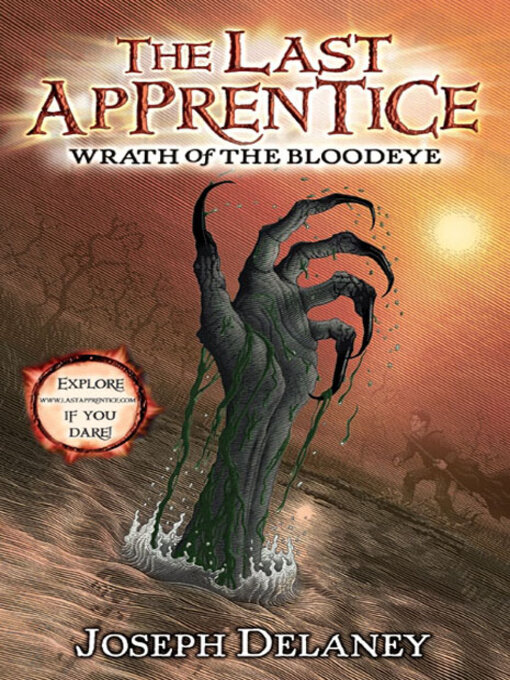 OM FIC DELANEY
Wrath of the bloodeye Wardstone Chronicles / Last Apprentice Series, Book 5
2011.
1 online resource.
Thomas Ward has spent two years as the Spook's apprentice. He's faced unimaginable peril, and survived. But a new danger has emerged: an ancient water witch, Bloodeye, is roaming the County intent on destroying everything in her path. To strengthen his skills, Tom is sent to the far north to train with the demanding Bill Arkwright. Arkwright lives in a haunted mill on the edge of a treacherous marsh, and his training methods prove to be harsh and sometimes cruel. Will Tom's new bag of tricks be enough to overcome a critical mistake that leaves him confronting Bloodeye on his own?.
Lexile: 790L
Online
Overdrive Media

Access Digital Media
The Last Apprentice: Wrath of the Bloodeye Chapter One The King's Shilling Carrying my staff, I went into the kitchen and picked up the empty sack. It would be dark in less than an hour but I'd just enough time to walk down to the village and collect the week's provisions. All we had left were a few eggs and a small wedge of County cheese. Two days earlier the Spook had gone south to deal with a boggart. Annoyingly, this was the second time in a month that my master had gone off on a job without me. Each time he'd said it was routine, nothing that I hadn't seen before in my apprenticeship; it would be more useful for me to stay at home practicing my Latin and catching up with my studies. I didn't argue but I wasn't best pleased. You see, I thought he'd another reason for leaving me behind: He was trying to protect me. Toward the end of the summer, the Pendle witches had summoned the Fiend into our world. He was the dark made flesh, the Devil himself. For two days he'd been under their control, and commanded to destroy me. I'd taken refuge in a special room Mam had prepared for me, and that had saved me. The Fiend was now doing his own dark will but there was no certainty that he wouldn't come hunting for me again. It was something I tried not to think about. One thing was certain: With the Fiend in the world, the County was becoming a much more dangerous place--especially for those who fought the dark. But that didn't mean I could hide away from danger forever. I was just an apprentice now but one day I would be a spook and have to take the same risks as my master, John Gregory. I just wished he could see it that way, too. I walked into the next room, where Alice was working hard, copying a book from the Spook's library. She came from a Pendle family and had received two years' training in dark magic from her aunt, Bony Lizzie, a malevolent witch who was now safely confined in a pit in the Spook's garden. Alice had got me into lots of trouble but eventually became my friend and was now staying with my master and me, making copies of his books to earn her keep. Concerned that she might read something she shouldn't, the Spook never allowed her to go into his library, and only one book at a time was ever given into her keeping. Mind you, he appreciated her work as a scribe. The books were precious to him, a store of information accumulated by generations of spooks--so each carefully duplicated volume made him feel a little more secure about the survival of that knowledge. Alice was sitting at the table, pen in hand, two books open before her. She was writing carefully into one, copying accurately from the other. She looked up at me and smiled. I'd never seen her look prettier, the candlelight illuminating her thick dark hair and high cheekbones. But when she saw I had my cloak on, her smile instantly faded and she put down the pen. "I'm off down to the village to collect the provisions," I told her. "Ain't no need for you to do that, Tom," she protested, concern evident in her face and voice. "I'll go while you stay and carry on studying." She meant well but her words made me angry and I had to bite my lip to stop myself from saying something unkind. Alice was just like the Spook: overprotective. "No, Alice," I told her firmly. "I've been cooped up in this house for weeks and I need a walk to blow the cobwebs out of my head. I'll be back before dark." "Then at least let me come with you, Tom. Could do with a bit of a break myself, couldn't I? Sick of the sight of these dusty books, I am. Don't seem to do anything but write these days!" I frowned. Alice wasn't being honest and it annoyed me. "You don't really want a walk down into the village, do you? It's a chilly, damp, miserable evening. You're just like the Spook. You think that I'm not safe out alone. That I can't manage--" "Ain't that you can't manage, Tom. It's just that the Fiend's in the world now, ain't he?" "If the Fiend comes for me, there's nothing much I can do about it. And it wouldn't make much difference whether you were with me or not. Even the Spook wouldn't be able to help." "But it's not just the Fiend, is it, Tom? County's a much more dangerous place now. Not only is the dark more powerful, but there are robbers and deserters at large. Too many people hungry. Some of 'em would cut your throat for half of what you'll be carrying in that sack!" The whole country was at war but it was going badly for us down south, with reports of some terrible battles and defeats. So now, in addition to the tithes that farmers had to pay to the Church, half of their remaining crops had been commandeered to feed the army. That had caused shortages and driven up the cost of food; the poorest people were now on the verge of starvation. But although there was a lot of truth in what Alice said, I wasn't going to let her change my mind. "No, Alice, I'll be all right by myself. Don't worry, I'll be back soon!" Before she could say anything more, I turned on my heel and set off briskly. Soon I had left the garden behind and was walking along the narrow lane that led to the village. The nights were drawing in and the autumn weather had turned cold and damp, but it was still good to be away from the confines of the house and garden. Soon Chipenden's familiar gray-slated rooftops were visible and I was striding down the steep slope of the cobbled main street. The Last Apprentice: Wrath of the Bloodeye . Copyright © by Joseph Delaney . Reprinted by permission of HarperCollins Publishers, Inc. All rights reserved. Available now wherever books are sold. Excerpted from Wrath of the Bloodeye by Joseph Delaney All rights reserved by the original copyright owners. Excerpts are provided for display purposes only and may not be reproduced, reprinted or distributed without the written permission of the publisher.