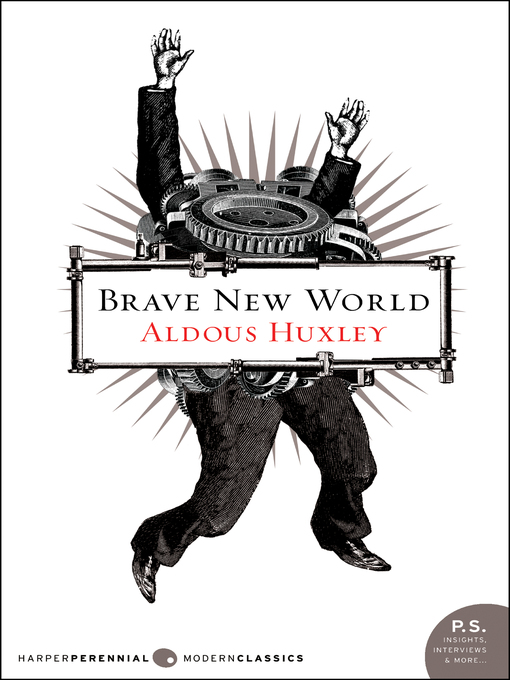 OM FIC HUXLEY
Brave new world
2014.
1 online resource.
Now more than ever: Aldous Huxley's enduring "masterpiece ... one of the most prophetic dystopian works of the 20th century" (Wall Street Journal) must be read and understood by anyone concerned with preserving the human spirit in the face of our "brave new world"Aldous Huxley's profoundly important classic of world literature, Brave New World is a searching vision of an unequal, technologically-advanced future where humans are genetically bred, socially indoctrinated, and pharmaceutically anesthetized to passively uphold an authoritarian ruling order€€"all at the cost of our freedom, full humanity, and perhaps also our souls. "A genius [who] who spent his life decrying the onward march of the Machine" (The New Yorker), Huxley was a man of incomparable talents: equally an artist, a spiritual seeker, and one of history's keenest observers of human nature and civilization. Brave New World, his masterpiece, has enthralled and terrified millions of readers, and retains its urgent relevance to this day as both a warning to be heeded as we head into tomorrow and as thought-provoking, satisfying work of literature. Written in the shadow of the rise of fascism during the 1930s, Brave New World likewise speaks to a 21st-century world dominated by mass-entertainment, technology, medicine and pharmaceuticals, the arts of persuasion, and the hidden influence of elites. "Aldous Huxley is the greatest 20th century writer in English." €€"Chicago Tribune.
Lexile: 870L
Online
Overdrive Media

Access Digital Media
Editorial Reviews
Review by Library Journal.
Gr 8 Up-Brave New World by Aldous Huxley is a classic science fiction work that continues to be a significant warning to our society today. Tony Britton, the reader, does an excellent job of portraying clinical detachment as the true nature of the human incubators is revealed. The tone lightens during the vacation to the wilderness and the contrast is even more striking. Each character is given a separate personality by Britton's voices. As the story moves from clinical detachment to the human interest of Bernard, the nonconformist, and John, the "Savage," listeners are drawn more deeply into the plot. Finally, the reasoned tones of the Controller explain away all of John's arguments against the civilization, leading to John's death as he cannot reconcile his beliefs to theirs.The abridgement is very well done, and the overall message of the novel is clearly presented. The advanced vocabulary and complex themes lend themselves to class discussion and further research. There is sure to be demand for this classic in schools and public libraries.-Pat Griffith, Schlow Memorial Library, State College, PA (c) Copyright 2010. Library Journals LLC, a wholly owned subsidiary of Media Source, Inc. No redistribution permitted.
(c) Copyright Library Journals LLC, a wholly owned subsidiary of Media Source, Inc. No redistribution permitted.