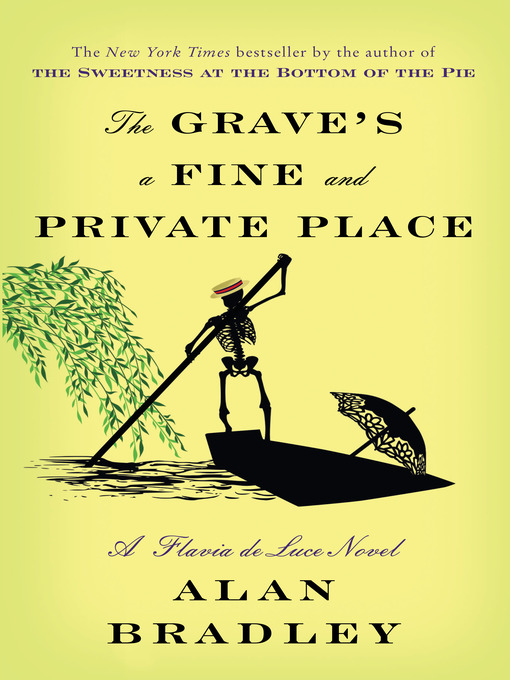 OM FIC BRADLEY
The grave's a fine and private place Flavia de Luce Mystery Series, Book 9
2018.
1 online resource.
In the wake of an unthinkable family tragedy, twelve-year-old Flavia de Luce is struggling to fill her empty days. For a needed escape, Dogger, the loyal family servant, suggests a boating trip for Flavia and her two older sisters. As their punt drifts past the church where a notorious vicar had recently dispatched three of his female parishioners by spiking their communion wine with cyanide, Flavia, an expert chemist with a passion for poisons, is ecstatic. Suddenly something grazes her fingers as she dangles them in the water. She clamps down on the object, imagining herself Ernest Hemingway battling a marlin, and pulls up what she expects will be a giant fish. But in Flavia's grip is something far better: a human head, attached to a human body. If anything could take Flavia's mind off sorrow, it is solving a murder although one that may lead the young sleuth to an early grave.
Online
Overdrive Media

Access Digital Media
Editorial Reviews
Review by Publishers Weekly.
Set in England in 1952, Agatha-winner Bradley's outstanding ninth Flavia de Luce novel (after 2016's Thrice the Brinded Cat Hath Mew'd) finds 12-year-old Flavia contemplating suicide in the wake of a family tragedy. To relieve the increased tension between Flavia and her two older sisters, Dogger, the de Luce family's long-serving and devoted servant, proposes an extended boat trip on the river. All is uneventful until the skiff nears the site where a notorious poisoner, Canon Whitbread, discarded the chalice he used in his crimes. Flavia's hand, trailing behind the boat, comes into contact with the corpse of the canon's son, Orlando. Unperturbed, Flavia uses her handkerchief to swab liquid from the dead man's lips, and she and Dogger jury-rig a forensic lab to examine the sample. Though disappointed when the evidence shows Orlando was drowned instead of poisoned, Flavia persists with her amateur detecting, even as she runs afoul of the local constable. As usual, Bradley makes his improbable series conceit work and relieves the plot's inherent darkness with clever humor. Agent: Denise Bukowski, Bukowski Agency. (Jan.) © Copyright PWxyz, LLC. All rights reserved.
(c) Copyright PWxyz, LLC. All rights reserved
Review by Library Journal.
Flavia de Luce, the 12-year-old genius who loves chemistry and murder investigations, is mourning her father's death by spending summer days floating down the river with her sisters and Dogger, the family factotum. As Flavia idly discusses a recent poisoning with Dogger, she drags her hand in the water and catches her fingers in the teeth of a skull. The victim is identified as the son of the notorious Canon Whitbread, who had been hanged for poisoning three women during a church service. As usual, Flavia throws herself into the investigation, using her scientific knowledge and curiosity to endanger herself. There's only one Flavia, the precocious amateur sleuth caught between childhood innocence and book knowledge. This ninth adventure (following Thrice the Brinded Cat Hath Mew'd) seems to bring an end to one story line as the three sisters and Dogger are prepared to move on with their lives. VERDICT Series fans will anticipate the details of this investigation, along with one last taste of Flavia's unorthodox family life. [See Prepub Alert, 7/3/17.]-LH © Copyright 2017. Library Journals LLC, a wholly owned subsidiary of Media Source, Inc. No redistribution permitted.
(c) Copyright Library Journals LLC, a wholly owned subsidiary of Media Source, Inc. No redistribution permitted.
Review by Booklist.
Who but Flavia de Luce could dangle her hand in the river on a boating outing and hook a human corpse in the mouth? Death seems to follow the 12-year-old chemist-sleuth everywhere, even on this excursion planned by longtime family servant Arthur Dogger as a diversion for a household still grieving the unexpected death of the de Luce patriarch. The body turns out to be that of actor Orlando Whitbred, son of the canon hanged for murdering three elderly ladies by serving them communion wine laced with cyanide. Surreptitiously, Flavia retrieves fluids from Orlando's lungs and a puzzling note from his pocket. Then, in league with Dogger, Flavia is out to determine how Orlando died, and while she's at that to look into the canon's crimes, too. Relationships with her two difficult older sisters improve, with literary Daphne interpreting pertinent poetry for Flavia, and Ophelia and her fiancé coming to the young sleuth's rescue in the nick of time. A promising partnership is ahead for the irrepressible Flavia, whose cozy escapades hold appeal for all ages.--Leber, Michele Copyright 2017 Booklist
From Booklist, Copyright (c) American Library Association. Used with permission.