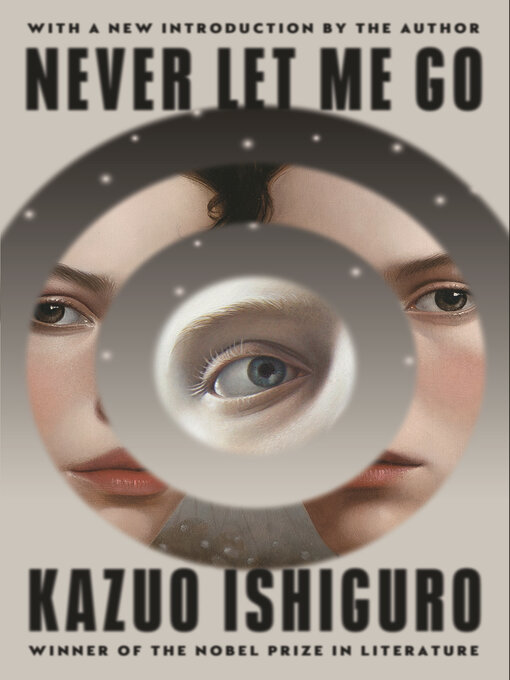 OM FIC ISHIGURO
Never let me go
2005.
1 online resource.
As children Kathy, Ruth, and Tommy were students at Hailsham, an exclusive boarding school secluded in the English countryside. It was a place of mercurial cliques and mysterious rules where teachers were constantly reminding their charges of how special they were. Now, years later, Kathy is a young woman. Ruth and Tommy have reentered her life. And for the first time she is beginning to look back at their shared past and understand just what it is that makes them special and how that gift will shape the rest of their time together. Suspenseful, moving, beautifully atmospheric, Never Let Me Go is modern classic.
Online
Overdrive Media

Access Digital Media
Editorial Reviews
Review by Publishers Weekly.
Like Ishiguro's previous works (The Remains of the Day; When We Were Orphans), his sixth novel is so exquisitely observed that even the most workaday objects and interactions are infused with a luminous, humming otherworldliness. The dystopian story it tells, meanwhile, gives it a different kind of electric charge. Set in late 1990s England, in a parallel universe in which humans are cloned and raised expressly to "donate" their healthy organs and thus eradicate disease from the normal population, this is an epic ethical horror story, told in devastatingly poignant miniature. By age 31, narrator (and clone) Kathy H has spent nearly 12 years as a "carer" to dozens of "donors." Knowing that her number is sure to come up soon, she recounts-in excruciating detail-the fraught, minute dramas of her happily sheltered childhood and adolescence at Hailsham, an idyllic, isolated school/orphanage where clone-students are encouraged to make art and feel special. Protected (as is the reader, at first) from the full truth about their eventual purpose in the larger world, "we [students] were always just too young to understand properly the latest piece of information. But of course we'd take it in at some level, so that before long all this stuff was there in our heads without us ever having examined it properly." This tension of knowing-without-knowing permeates all of the students' tense, sweetly innocent interactions, especially Kath's touchingly stilted love triangle with two Hailsham classmates, manipulative Ruth and kind-hearted Tommy. In savoring the subtle shades of atmosphere and innuendo in these three small, tightly bound lives, Ishiguro spins a stinging cautionary tale of science outpacing ethics. Agent, Amanda Urban at ICM. 100,000 first printing; 9-city author tour. (Apr. 11) (c) Copyright PWxyz, LLC. All rights reserved
(c) Copyright PWxyz, LLC. All rights reserved
Review by Library Journal.
Ishiguro's previous novels, including the Booker Prize?winning The Remains of the Day and A Pale View of the Hills, have been exquisite studies of microcosmic worlds whose inhabitants struggle with loss and love, despair and hope. Above all, his characters strive to forge an enduring self-identity that can withstand the blows of an uncaring world. His new novel centers on one such character, Kathy H., and her attempts not only to find herself but also to understand her role in a mysterious world whose meanings she often fails to comprehend. As a child, Kathy H. attended Hailsham, a private preparatory school whose teachers and guardians sheltered the students from reality. Now 31, Kathy has assumed the position for which she was trained at Hailsham so long ago, and she has put the memories of her Hailsham days out of her mind. When she is thrown together with two of her old school friends, she begins to relive experiences that both call into question her friendships and deepen them. Her memories reveal also that the pastoral and pleasant Hailsham harbored dark and mysterious secrets that she now can begin to understand. Ishiguro's elegant prose and masterly ways with characterization make for a lovely tale of memory, self-understanding, and love. [See Prepub Alert, LJ 9/1/04.]-Henry L. Carrigan Jr., Lancaster, PA (c) Copyright 2010. Library Journals LLC, a wholly owned subsidiary of Media Source, Inc. No redistribution permitted.
(c) Copyright Library Journals LLC, a wholly owned subsidiary of Media Source, Inc. No redistribution permitted.
Review by School Library Journal.
Hailsham is an idyllic boarding school with a dark secret-its students are clones who are raised to provide organ donations. Three former students attempt to understand their destiny while navigating complicated relationships and questions of their humanity-or lack thereof. © Copyright 2016. Library Journals LLC, a wholly owned subsidiary of Media Source, Inc. No redistribution permitted.
(c) Copyright Library Journals LLC, a wholly owned subsidiary of Media Source, Inc. No redistribution permitted.
Review by Booklist.
Kathy, Tommy, and Ruth were once classmates at Hailsham, a private school in the English countryside with a most unusual student body: human clones created solely to serve as organ donors. You were brought into this world for a purpose, advised Miss Lucy, one of Hailsham's guardians, and your futures, all of them, have been decided. The tightly knit trio experienced love, loss, and betrayal as they pondered their destinies (to become carers for other donors and, eventually, donors themselves). The novel is narrated by Kathy, now 31 and a carer, who recalls how Hailsham students were told and not told about their precarious circumstances. (Why were their writings and paintings so important? And who was the mysterious Madame who carted their creations away?) Ishiguro's provocative subject matter and taut, potent prose have earned him multiple literary decorations, including the French government's Chevalier dans l'Ordre des Arts et des Lettres and an Order of the British Empire for service to literature. (His Booker Prize-winning novel, The Remains of the Day, was adapted into a critically acclaimed film). In this luminous offering, he nimbly navigates the landscape of emotion--the inevitable link between present and past and the fine line between compassion and cruelty, pleasure and pain. --Allison Block Copyright 2005 Booklist
From Booklist, Copyright (c) American Library Association. Used with permission.